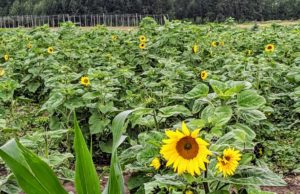 This top picture was taken in the Maze August 11th.  We will update each couple days as the bloom progresses.  There were about 10% sunflowers blooming when this pic was taken.  We are expecting this patch to reach full bloom August 17th ish.  Our larger 2 plantings will reach full bloom later in the month.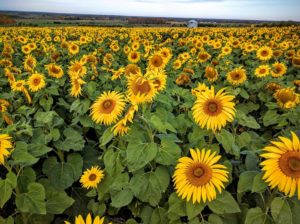 If you want to check out the sunflower when they look like this, Mid August – Mid September is when they are typically in bloom.  We open the Mazes early August and close Early October.
This year we have 3 plantings of Sunflowers. The first to bloom is just 1 acre and was planted with around 50,000 sunflowers.  The second 2 plantings are 4 acres each and should start blooming around the 20th of August.
$9 Adults
$6.5 Children
4 & Under Free
We do charge admission for those just wishing to take photos in the sunflower Maze
We are best known for our Sunflower Maze, grown from 100,000 smiling sunflowers. The Bloom typically begins around the 1st to second week of August and can stretch into September, completely dependent on the weather.  Oh and did you know our mazes are certified organic?  Yeah it may seem silly to some as the maze is only eaten by the birds, however we are an organic farm and believe everything we grow should be grown organically.
Upick-  Currently we have a small selection of flowers, peas, beans, zucchini, onions, potatoes and Strawberries.
Carrots & beets should be ready next week.
Strawberries will most likely be finished by August 9th